The last full day in Florence was a wonderful resting one with casual sightseeing and wandering. After a leisurely breakfast checking email and catching up on loose ends, we headed up the hill to Piazzale Michelangelo to get a panoramic view of the city. We took lots of pictures, Sharon made a sketch of the city, we had a wonderful conversation with a local artist (bought one of his water colors), and other conversations with couples and groups who wanted their picture taken. We enjoyed a picturesque lunch atop the hill and made flexible plans for the afternoon.
After lunch we headed for the Da Vinci museum, but leaned upon our arrival at the Piazza del Repubblica that only the banner advertising it was there. We turned to head back to the hotel as the rain started coming down pretty heavily. Having watched the weather come in high atop the hill, we had added an umbrella before taking off.
On the way back as we passed the Duomo, we noticed how short the lines had become due to the rain and decided to go in to see the insides of the Cathedral of Saint Mary we had walked by and around so many times (and also painted). We were so glad we did.
The rain had stopped upon our exit from the Cathederal and with new directions we headed for the "Machines of Leonardo Da Vinci," which included more than 50 functioning models of flying machines, war machines, and assorted other hydraulic and mechanical devices, far ahead of their time. Sharon enjoyed them as much as I did. We especially enjoyed seeing and trying to read several of his manuscripts and notes on display.
Afterwards, Sharon wanted to show me a site she considered painting the day before. When we arrived at the square we were met by a wonderfully unique street fair which happens once-a-year. There we met several interesting and gifted craftsmen, cheese, and toy makers.
We wrapped up the leisurely part of the day in a wonderful neighborhood jewel called the Ristorante Accademia. There we stretched our dinner a bit longer to avoid the necessary packing. Despite the packing, we are very excited about the next leg of our journey – Sienna!
Click on the Slideshow to View the Pictures in larger format at your own pace.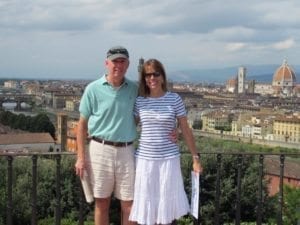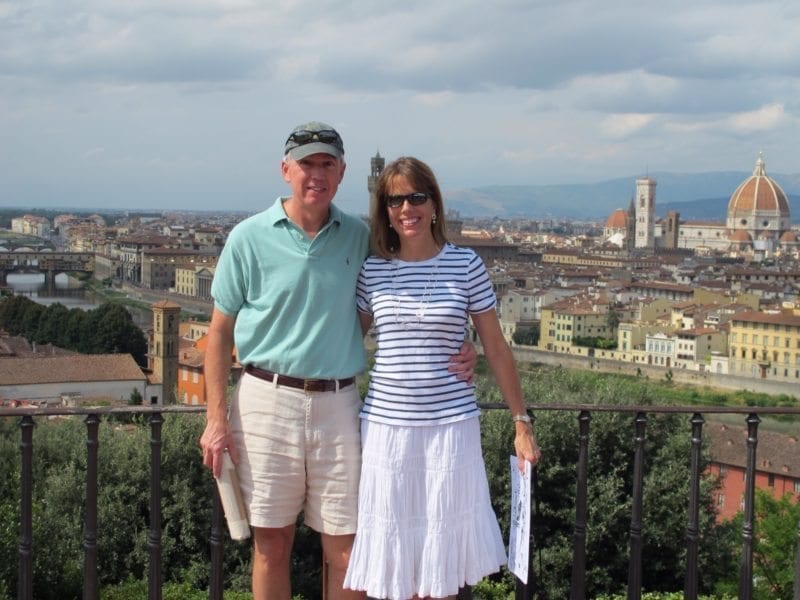 Newsletter Signup
"*" indicates required fields